Valentine's Day Frame Gallery
Create a beautiful focal point for any room or hallway with this frame gallery project. Easy to update for any celebration or season!
---
Materials needed:
Empty frames of various sizes, colours and shapes (maximum weight per frame not to exceed 16 lbs)
Wood letters - Wood Heart - Flat sided vases - Fresh or artificial flowers
Isopropyl rubbing alcohol
Bubble level
Painter's tape
Tape measure
NOTE: Follow all Command™ Brand package instructions for proper surface cleaning and prep, adhesive strip placement and recommended weight claims.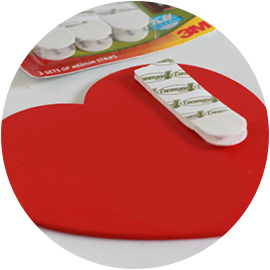 ---
Instructions:
1. Determine how large the area is that you want to create the frame gallery, and mark the wall with painter's tape. Clean the wall surface with isopropyl rubbing alcohol, wipe gently, and then let dry.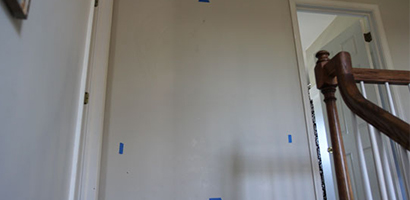 2. Mark the same measurements on the floor as a staging area for the placement of the frames. Play around with how you want the frames to be placed on the wall, including where the initials, heart and flowers will go. Once you like your layout, take a photo of it so you have it as a reference.
Clean the back of all the frames with isopropyl rubbing alcohol and let dry.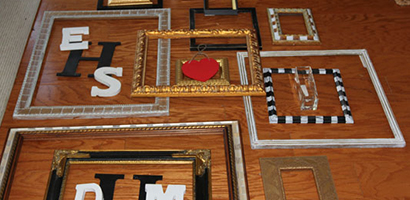 3. Adhere Command™ Picture Hanging Strips on the backs of all the frames that will be attached directly to the wall. identify how many sets and size of Command™ Picture Hanging Strips you will need per frame by referencing the product packaging. To attach, remove one blue liner, position each set of Command™ Picture Hanging Strips on the back of frame, and press firmly for 30 seconds. Do not add strips to the frames that will be layered yet. Note: total weight of a wall frame plus layered from cannot exceed 16 pounds (7.3 kg) since 4 large picture hanging strips holds up to this weight.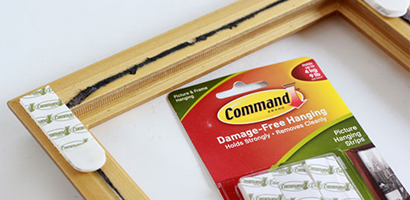 4. To add the frames to the wall, start with the bottom frame in your layout/Design. Use a bubble level to make sure frame is level, remove the second blue liner and then press firmly into the wall for 30 seconds. Once the first frame is on the wall, continue to add the base frames to the wall following the same steps. Make sure each frame is straight and then press firmly for 30 seconds
Remove the frames from the wall by slowly pulling the frame from the bottom and pulling straight towards you. Wait one hour to re-mount the frames, pressing the fasteners together until they click.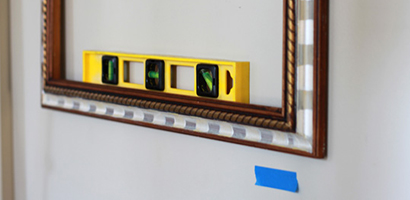 5. Repeat this process with each layered frame, the wooden letters, the heart and the vases by attaching Command™ Picture Hanging Strips and adhering each item to the wall or other surface. Then remove the items for one hour before re-mounting them.
Note: ensure weight recommendations for specific strip sizes are followed and that the full strip makes contact with a surface/wall.