Create an elegant, welcoming space above your staircase that reflects your style using framed family photos and other decorative items such as a monogram letter, wreath and decorative plaques. After designing the layout of your collage, hang up your frames and decorative items with damage-free Command™ Medium Picture Hanging Strips and Hooks as shown in this project.
---
Materials needed:
Isopropyl alcohol and towel
Family photos in picture frames – this project uses five frames -

NOTE: Be sure thebacks of the frames are smooth

Small wreath
Monogram letter – this project uses the letter 'H'
Decorative plaque -

NOTE: Be sure the back of the plaque is smooth level
NOTE: Follow all Command™ Brand package instructions for proper surface cleaning and prep, adhesive strip placement and recommended weight claims.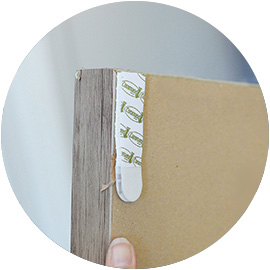 ---
Instructions:
1. Plan the layout of your staircase collage by arranging the frames and decorative pieces on the floor or a nearby large table.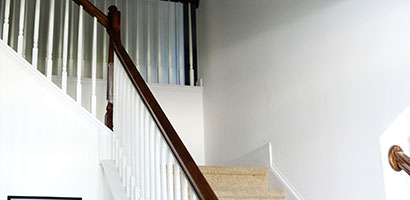 2. Before mounting the frames to the wall, prep the wall surface by cleaning with isopropyl alcohol, wipe gently and let dry.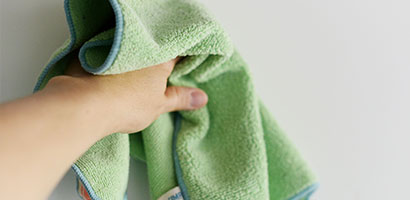 3. To hang the first picture frame, remove the Command™ Picture Hanging Strips from the package and separate each strip. To form a set, connect two strips together until you hear a click. Then, remove one green liner and position one set of strips on the back of the frame. Press the strip firmly against the back of the frame. Repeat with the remaining strips needed to hang the frame. This project uses two sets of Medium Picture Hanging Strips for each frame.
NOTE: Each set of medium strips holds up to 3 pounds(1.4 kg).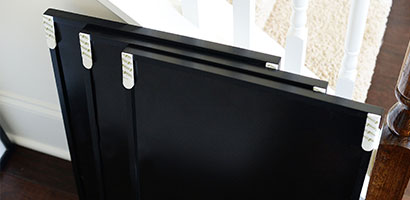 4. Remove the remaining green liner(s) from the strips adhered to the back of the frame. Position the frame on the wall, using a level as needed, and press the front of the frame against the wall for 30 seconds. Remove the frame by grabbing at the bottom corners and pulling up and out toward you. Press firmly along all three areas of each strip for 30 seconds each and wait one hour before remounting the frame

5. Repeat steps 2-4 to hang each frame that will be in the staircase collage.
6. To hang a small, decorative wreath, first remove the Command™ Clear Medium Hooks and adhesive strips from the package. Remove the black "wall side" liner and apply the strip to the desired location on the wall, pressing firmly along the entire strip for 30 seconds.
NOTE: Be sure to use the appropriate sized hook for the weight of your wreath. The Command™ Clear Medium Hook holds up to 2 pounds(0.9kg).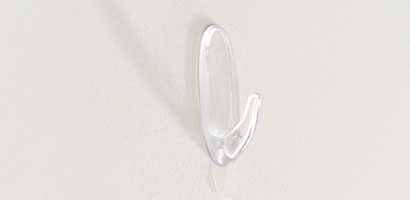 7. Remove the remaining blue liner and apply the hook to the strip, making sure the tab is accessible for future removal. Press firmly along the entire hook, and wait one hour before hanging the wreath from the hook.